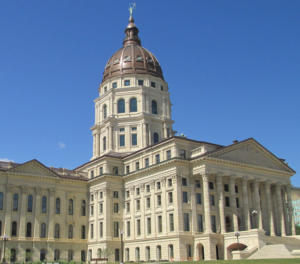 Today we attended a briefing on the "Chairman's Bill" on school finance in the House K-12 Education Budget Committee. While the bill is not yet in print form, the various components were explained by Revisor Jason Long and Rep. Clay Aurand (R-Belleville). Aurand had facilitated the Committee discussion, seeking consensus on what items would be included in the bill.
While there were no specifics on funding in the bill, we can share the components with you. The bill is similar to the previous school finance formula in that it contains a base funding per pupil modified by weightings.
Base state aid per pupil is renamed Base Aid for Student Excellence (BASE). It is multiplied by the enrollment of the district which is the average of two count dates – September 20 and February 20. BASE is adjusted by a number of weightings (explained below). This method determines the school district's total foundation aid. The state portion of that aid is determined by subtracting local revenue sources (local foundation aid) from its total foundation aid.
Kindergarten students would count a 0.8 in 2017-18, 0.9 in 2018-19, and 1.0 in 2019-2020, phasing in funding for all day kindergarten.
Bilingual weighting will shift from a contact hours calculation to an FTE student headcount. In the briefing this was said to be a weighting of 0.1 although Aurand later noted that that number was not correct.
At-risk weighting is based on students on free lunch as it was in the previous formula. The weighting factor will be 0.456. There is also a high-density at-risk weighting of 0.105 for districts with more than 3,000,69% or more of which are eligible for free lunch. For districts between 2,500 and 3,000 students and between 50% and 60% free lunch there is a linear transition for the weighting.
Special education and related services weighting is the same as under the previous formula.
Ancillary school facilities weighting is replaced with new school facilities cost weighting and is calculated as ancillary facilities weighting was.
The Cost of Living weighting stays as it was.
There is no career and technical education weighting. Instead, as we understand it, districts will receive a set amount of money per pupil which may be used for CTE programs or even post-secondary dual credit course and distance learning technology.
The bill will reauthorize the statewide 20 mill levy.
The LOB is replaced with three local funding sources:
The Local Foundation Budget (LFB) is a mandatory levy of 20% of the district's total foundation aid. A portion of the LFB is required to be used for at-risk and bilingual education in proportion to the district's at-risk and bilingual weightings. It is equalized as the LOB is today.
The Local Enhancement Budget (LEB) is limited to 5% of the district's total foundation aid. No election is required. It is equalized as the LOB is today.
The Local Activities Budget (LAB) is limited to 4% of the district's enrollment multiplied by the BASE aid. The LAB must be approved by the voters and expended only for non-instructional purposes. It is equalized as capital outlay is today.
Capital outlay state aid is reenacted using the same formula.
Bond and interest state aid remains the same except that districts with fewer than 260 students would need State Board approval in order to be eligible fore state aid for bonds issued to construct new school facilities.
Virtual school aid would remain the same as the current formula.
The corporate tuition tax credit program would be change such that eligible students would include those enrolled in a district that receives high-density at-risk weighting. Nonpublic schools receiving students would have to be accredited by the State Board and have a post-secondary effective rate that exceeds the trend line for all school districts as determined by the State Board or have a composite ACT score that exceeds the statewide average.
Wow. That's a lot to digest! And it is all based on a briefing because the bill has yet to be printed. We expect to see the full bill some time tomorrow and then spend some quality time plowing through all 100 pages.
We'll keep you posted as the discussion goes on. Tomorrow should be more committee discussion of the above. Hearings on the bill will be Thursday, Friday, and Monday, if needed.