What happens to all those Bills?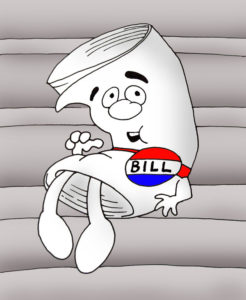 The Kansas Legislature wrapped up its first half today and won't resume their work until Monday, March 6.
Under the rules, any bill that has not passed its chamber of origin is now dead and cannot be considered as a stand-alone bill again this year. The exception to this is any bill that was introduced in a time-line exempt committee The House and Senate Federal and State Affairs, Senate Ways and Means, Senate Assessment and Taxation, House committees on Calendar and Printing, Appropriations, Taxation are all exempt committees. An exempt bill is defined as "those sponsored by, referred to or acted upon by an exempt committee."
When a bill from a non-exempt committee is referred to an exempt committee, it is then a time-line exempt bill. While the K-12 Education Budget Committee is not an exempt committee, the four school finance bills were referred to exempt Appropriations Committee. This is referred to as "blessing" the bill.
We will be reviewing all bills of interest to see which are still viable.
Of course, no idea is ever dead and bills that are not in exempt committees or blessed can certainly re-emerge as amendments to other bills.
---
Issues this Week Demonstrate a Strong Coalition of Democrats and Moderate Republicans Willing to Stand up for Good Policy
For all the social media rants about whether Moderate Republicans will put Kansas ahead of party or whether Democrats will cooperate with Moderates to advance good policy; what has been clearly demonstrated this week is that both Moderates and Democrats are honoring their commitments to work with each other to advance policies beneficial to Kansas.
The best examples of this were the votes on the tax bill (HB 2178), the motion to override the veto of the tax bill, and the successful effort to pass Medicaid expansion.
HB 2178 passed the House on a vote of 76 – 48 and Senate on a vote of 22 – 18. The override vote passed the House 85 – 40. While the override failed in the Senate, Moderates and Democrats delivered 24 votes in favor of the override to 16 opposed.
The Medicaid expansion effort in the House found similar margins passing with 81 votes. And more importantly, five amendments offered by Conservative Republicans as poison pills went down to defeat; one by 68 votes, three by 74 votes, and the fifth by 72 votes. These were what we might call "postcard votes" – those expected to lose but likely to end up on campaign postcards later.
These votes demonstrate, beyond a shadow of doubt, that Democrats and Moderate Republicans are working from a position of mutual respect and remarkable cooperation. They are united in their determination to put Kansas back on a path to stability and prosperity.
We applaud them!
---
Why Not Visit Them When They Are Back Home?
With the legislature on the turnaround break until March 6, they will undoubtedly be attending forums and town hall meetings. We urge all who are interested in the actions of this legislature to take the time to attend an event and use the time to thank those who stood up for Kansas and take to task those who have maintained their allegiance to Governor Brownback's failed policies.