House Has a Do-over; Passes School Funding Bill
The House had one bill on general orders today and just like yesterday it was HB 2445, the school finance bill.
Once again Rep. Fred Patton (R-Topeka) came to the well to carry the bill and once again Representatives came forward to argue its merits and offer amendments.
The first amendment came from Rep. John Whitmer (R-Wichita). Announcing that he was offended that school districts could use tax dollars to sue the state, he offered an amendment to ban school districts from using state tax money to sue the state. He asserted that our schools were failing to provide an education and that all money should be spent "in the classroom." On a roll call vote, the amendment failed 49 to 74.
Next came an amendment from Rep. Jarrod Ousley (D-Merriam) to remove the designated school districts in the community mental health pilot program and direct the State Board of Education to choose districts. Brenda Landwehr (R-Wichita) the author of the program argued that the districts had been carefully chosen. Ousley said he liked the program but wanted his constituents to have a chance to be part of it. The amendment failed on a division vote of 37 to 84.
Rep. John Eplee (R-Atchison) had an amendment to return language on out of state students to the way it was drawn in SB 19 last year. That bill ratcheted down funding over a period of years eventually having those students funded at .5. It was amended in committee to have some students drop to 0 based on certain geographical considerations. The Eplee amendment was strongly supported by southeast Kansas legislators and was adopted on a voice vote.
Rep. Francis Awerkamp (R-St Mary's) offered today's voucher amendment. This one would direct that if a school district sued the state, parents could demand an account in the State Treasurer's office funded with 75% of a child's school aid to be used as a voucher to attend a private school. The amendment failed on an overwhelming voice vote.
Rep. Chuck Weber (R-Wichita) came to the well to say that he had intended to offer an amendment under which this funding bill would only become law if the constitutional amendment now being considered in the House Judiciary Committee was passed. But, he said, he had changed his mind and while he still supported the constitutional amendment, he would not offer an amendment linking it to this bill.
No further amendments being offered, a motion to advance the bill to final action was adopted on a roll call vote of 71 to 53.
Now for some drama.
Majority Leader Don Hineman (R-Dighton) offered a motion to move the bill to emergency final action (usually final action votes happen the next day). That motion failed on a division vote of 82 to 42 (it takes a supermajority or 84 votes to pass).
After a pause and some scrambling on the floor, Rep. Keith Esau (R-Olathe) offered a motion to reconsider that action. It would take a supermajority (84 votes) to reconsider; then another supermajority (84 votes) to advance the bill to Emergency Final Action; then a simple majority (63 votes) to pass the bill.
The motion to reconsider passed on a voice vote. The motion to move the bill to final action passed on a roll call vote of 88-36. the bill then got a preliminary vote of 67-57. Rep. Whitmer then explained his NO vote decrying a bill that "throws money at an inefficient system." That explanation moved the final vote to 71 in favor, 53 opposed.
The bill now goes to the Senate for consideration.
Senate Committee Continues to Work, Then Passes a School Finance Bill, SB 423
We don't really know what to think of the Senate Select Committee on School Finance bill to address the Gannon decision. Okay, well, we DO think this: the Court will reject it.
The bill increases the BASE over five years from the current year's $4,006 to $4,258 in 2018-19, $4,334 in 2019-20, $4,412 in 2020-21, $4,492 in 2021-22, and finishing at $4,574 in 2022-23.
In addition to this, there are some add-ons in fiscal year 2019 specifically:
Additional Special Education Aid; $12 million ($44 million in HB 2445),
400 new slots for pre-school at-risk; $1 million,
Additional Parents as Teachers; $3 million,
The mental health/USD pilot partnership; $10 million (also in HB 2445),
ABC early childhood intervention program; $1.8 million,
ACT and WorkKeys funding; $2.8 million,
Concurrent enrollment pilot program; $1.5 million,
Mentor teacher program; $500,000 (also in HB 2445),
Professional Development; $1.5 million (also in HB 2445).
We don't have a complete and official analysis of how much this plan puts into education but word is that is in the neighborhood of $250 million over five years.
House Committee Holding Hearing On Constitutional Amendment
The Hearing on HCR 5029 is ongoing at this time. We will report on this fully tomorrow.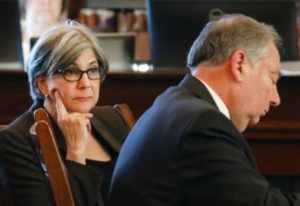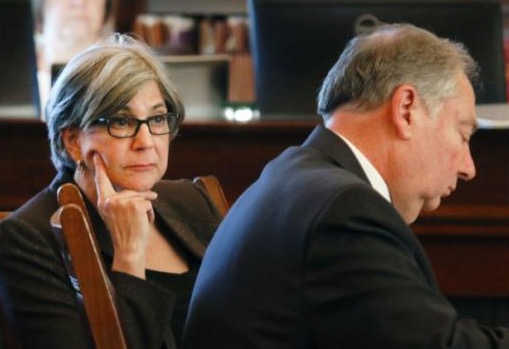 BUT! Senators Susan Wagle and Jim Denning – Republican leaders in the Senate – have announced their intention to hold all legislative action hostage to passage of a constitutional amendment banning the Supreme Court from ruling in school finance litigation.