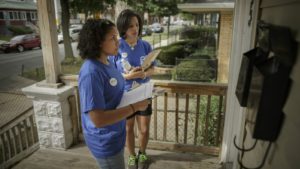 President Trump is coming to Topeka to hold one of his MAGA rallies in support of Kris Kobach for Governor and Steve Watkins for Congress in CD 2. We all know that Trump and Kobach have a unique friendship and Trump needs Watkins – an Alaskan renting a house a Kansas while his wife lives in their house in Massachusetts – to help keep the Congress in his hands. Polling shows both races to be very tight and Trump hopes to boost Kobach and Watkins over Laura Kelly and Paul Davis.
With Trump in Topeka and protests at his rallies becoming very popular, it might seem like a good idea to make a sign and show up in Topeka. But frankly, we don't think it's such a great idea. If you want to impact the political landscape in Kansas and in DC, you can show up to protest or you can take concrete action to see to it that Kobach does not become governor or that Watkins does not get sent to Washington. Or for that matter, just take direct action to keep the Kansas legislature moderate.  To help you with that effort, our KPAC (a group of educators who recommend candidates who have demonstrated a commitment to supporting public education and students) has published its recommendations and you can view them by clicking here.  Better yet, share the recommendations with friends, family, and neighbors as you encourage them to vote.
And so we offer you some alternative activities.
Educators for Laura Kelly
First, if you are in Wichita or Sedgwick County, you can join an "Educators for Laura Kelly" event. This event will be held on Saturday, October 6, from 1:00 to 2:30 pm at the United Teachers of Wichita office, 150 S. Ida Street in Wichita. Come to show Laura the love and find out more about how you can help her win. Click here for a link to their Facebook event. 
KDP Day of Action
Of course, we all can't go to Wichita (or to Topeka for the circus). That's why the Kansas Democratic Party is making Saturday, October 6, a Day of Action across the state. Already there are events in Garden City, Lawrence, Overland Park, Wichita, Pittsburg, Leavenworth, Topeka, Winfield, and Kansas City. These events are all opportunities to spend some time volunteering for Democratic candidates across the state. We expect more events and locations to be added. To find out information about a Day of Action event in your area, click here.
Contact your favorite candidate
Finally, your counter protest can be a call or email to your favorite candidate – Republican or Democrat – and ask what you can do to move that candidate to the win column. Candidates need phone bankers, door-to-door canvassers, parade walkers, and all kinds of other volunteers. Take the hours you planned to give to protesting a MAGA rally and donate those hours to your favorite candidate.
So to answer the initial question in this post, no, KNEA is not participating in any protests of the Trump MAGA rally for Kobach and Watkins. Instead, we plan to take actions to see to it that everyone on this list of KNEA/KPAC recommended candidates win in November.
Don't forget, you can check your voter registration, register and apply for an early voting ballot at www.ksvotes.org.
KSVotes.org is the fastest, simplest way to register to vote in Kansas using just your touchscreen device.