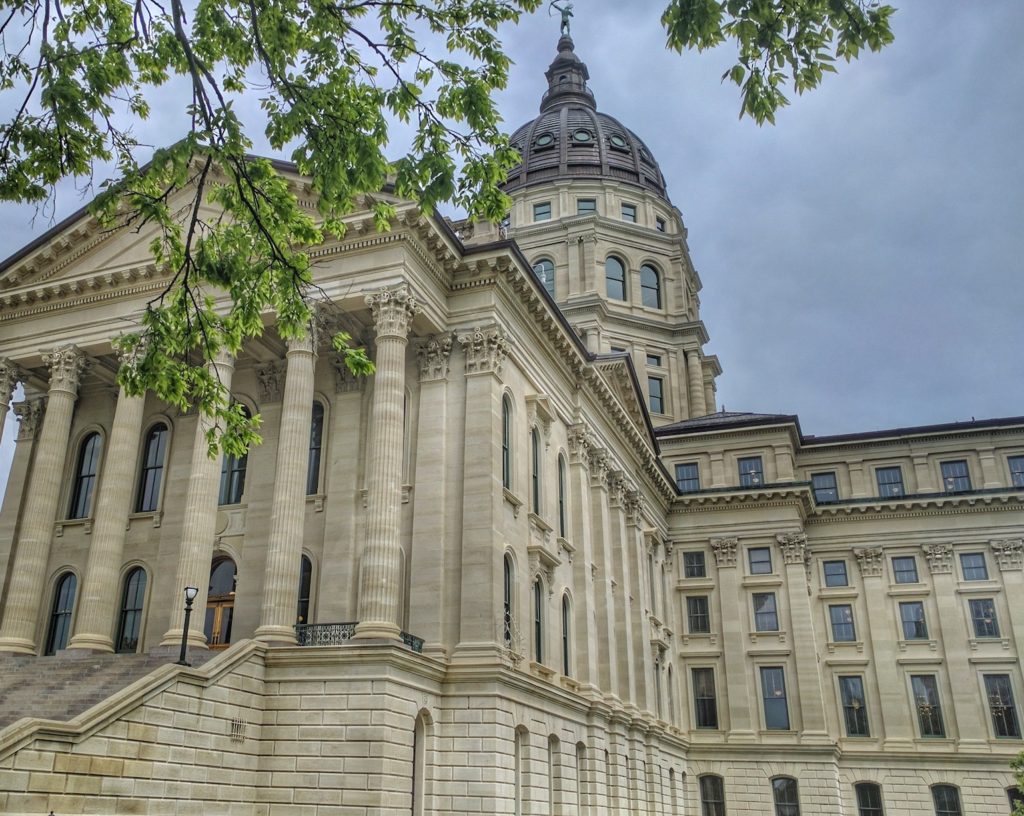 Community College bill revisited, amended, and passed again; Religious "freedom of speech" bill dropped from consideration
The House Education Committee on Monday had been scheduled to work two bills – HB 2144 on community college reporting and HB 2288, the so-called "student and educator freedom of religious speech act."
After a major amendment taking the worst parts of the original HB 2144 out of the bill, it was passed as a bill simply requiring community colleges to let students know which courses were transferrable to Regents institutions and to report some student demographic data. On a motion of Rep. Adam Smith (R-Weskan) the bill was brought back to committee for reconsideration (this was possible because it had not yet been read in on the floor of the House and so was still under the control of the committee).
Smith had a small amendment brought to him by the community colleges that does not change the bill significantly but eases the burden on the colleges. The Smith amendment was adopted and the bill was again voted out of committee favorably for passage.
HB 2288 was sponsored by Rep. Renee Erickson (R-Wichita) and had Representatives Arnberger, Bergquist, Blex, Burris, Capps, Carlson, B. Carpenter, Collins, Delperdang, Dove, Garber, Helmer, Hoheisel, Houser, Howard, Humphries, Jacobs, Mason, Owens, Seiwert, E. Smith, Tarwater, Thimesch, Thomas, Vickrey, Waggoner and Wasinger, all Republicans, as co-sponsors.
The bill granted students rights they generally have under current law but would have implied in Kansas statute that teachers and other employees could violate the constitution in promoting their own religious beliefs with students. Kansas law today says that parents have control of their children's "religious and moral" upbringing but HB 2288 would have granted educators broad rights to promote their own religious beliefs. Teachers carry their own personal religious beliefs with them at all times but in the public school, school employees aren't allowed to promote those beliefs with students.
The bill was supported in the committee hearing by Rep. Erickson and a representative of the Family Policy Alliance. Opponents were KASB, KNEA, and the Mainstream Coalition. The bill, if passed, would encourage behavior among school employees that is clearly illegal under the United States Constitution as demonstrated by a long history of case law. As a result, lots of costly litigation would likely follow.
On Monday, the Committee had the bill on their agenda to work and vote on but at the last minute, Rep. Brenda Dietrich (R-Topeka) who was chairing the committee in the absence of Rep. Steve Huebert (R-Valley Center), conferred briefly with Erickson and then adjourned the meeting without taking an action.
It would appear that the bill is now dead.
Bills on interest moving on the floor
Three bills of interest to KNEA were debated in the chambers today – one in the House and two in the Senate. All three bills were advanced and will face final action votes on Wednesday.
In the House, consideration was given to a bill sponsored by Rep. Kristey Williams (R-Augusta), HB 2006, which would require the Legislative Post Audit to review state economic development incentive programs every two years with an eye to determining if the state is getting a good return on investment.
These programs – and there are a lot of them – grant tax breaks or incentives to companies with the understanding that good paying jobs will be created in Kansas but there has never been a review to determine if jobs are actually being created.
The bill was amended to put them on a three year review cycle to ease the burden on the LPA and then passed. It will face a final action vote on Wednesday.
This is a good bill and Williams is to be commended for her efforts on this issue. The bill is long overdue. We urge legislators to pass the bill.
In the Senate there were votes on SB 128, a bill changing the requirements on emergency drills. Currently schools must hold one fire drill every month, this bill changes that to at least four per year. The bill reduces the number of tornado drills to at least two per year with one in September and one in March and requires at least three crisis drills to be held during school hours.
Overall, the number of drills is reduced and more focused. The bill will face a final action vote on Wednesday.
Senate Bill 16 also came up for debate. This bill would allow at-risk dollars to be spent on evidence-based student programs and specifically allows expenditures on Jobs for America's Graduates and the Boys and Girls Club in addition to Communities in Schools which is listed in current law. The bill really doesn't do much as schools can use their funds for this currently and at their discretion.
There was an attempt by Senator Anthony Hensley (D-Topeka) to amend two years of inflation funding increases into the bill. His rationale was that the Senate so far was not taking action on school finance and the Attorney General had expressed a desire to have school finance done by March 15 if there were no changes to the formula and March 1 if there were.
His amendment was defeated on a vote of 12 to 28 with all Republicans voting NO. All Democrats and John Doll (I-Garden City) voted YES for school funding.
SB 16 was then advanced without the Hensley amendment and will be considered for final action on Wednesday.