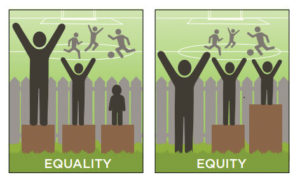 The Kansas Supreme Court issued its decision in the Gannon School Finance Lawsuit dealing a blow to the State and ruling that SB 19 is both inadequate and inequitable.
"As part of today's ruling, it was noted that generations of Kansas students have been shortchanged.  The Court has made it clear that public education funding is no-longer to be a game of political football."  Mark Farr, Kansas NEA President.
While the issue was initially focused on adequacy (there had been a ruling on equity last year), the Legislature made changes to several parts of the school finance formula that created additional equity problems.
On equity, the court ruled against four provisions in SB 19:
Changes to capital outlay that expand the use of these funds for insurance expenditures,
Changes to LOB that imposed different procedures on some school districts in accessing the maximum LOB,
Changes to LOB that altered the equalization formula, and
Changes to at-risk funding that provided that if a district had fewer than 10% of students on free lunch, it would receive funding as if it did have 10%.
The Court also noted that "equity" does not mean "equal." The Court said,
As our test for measuring equity under Article 6, "School districts must have reasonably equal access to substantially similar educational opportunity through similar tax effort." Gannon I, 298 Kan. at 1175. This test does not require that wealth-based disparities between districts be measured under a zero-tolerance test or other mathematically precise standard because "equity [is] not necessarily the equivalent of equality." Gannon II, 303 Kan. at 710; see Gannon I, 298 Kan. at 1180, 1188. Instead, "[t]o violate Article 6, the disparities . . . must be unreasonable when measured by our test." 298 Kan. at 1180.
On adequacy the Court ruled that the overall funding in the bill was indeed inadequate. The bill provided for a base state aid amount of $4006 in 2017-18, $4128 in 2018-19, and an inflation adjustment in the out-years. The Court declined to give a dollar amount that would meet constitutional muster but did indicate that the base amount provided by the state without creating more reliance on local levies was what was important.
The Court has given the Legislature a strict timeline for devising a remedy.
The ruling does not require a special legislative session (although it would be allowed). Instead, the ruling sets this timeline:
No later than April 30, 2018, the parties' concurrent briefs addressing any legislative remedies of constitutional infirmities will be due in this court. Response briefs will be due May 10, and oral arguments will be conducted on May 22 at 9 a.m. The court's decision will be communicated by June 30. Exceptions to this schedule will be made to accelerate the deadlines as needed in order to consider earlier remedial legislation—created by special session or otherwise.
In other words, the State has time to work but they won't be permitted to drag things out.
In an interesting twist, the Court also suggested that the State could help itself by "showing its work."
The State would help its case by "showing its work." Gannon II, 303 Kan. at 743. This exercise involves considerably more than what it presented to this court in the instant appeal and in Gannon III. See 304 Kan. at 515. The State should identify other remedies that the legislature considered but, more important to meeting its burden, explain why it made its particular choice for reaching the constitutional standards for adequacy and equity.
"Educators have been calling for the Kansas Legislature to fully fund public schools according to the state constitution.  Taking a bi-partisan approach to tax policy and school funding is the only way to achieve full constitutional funding for the future." Mark Farr, Kansas NEA President.