Governor Introduces Her Budget, Labor Coalitions Reorganize, Misinformation & Disinformation Campaigns Begin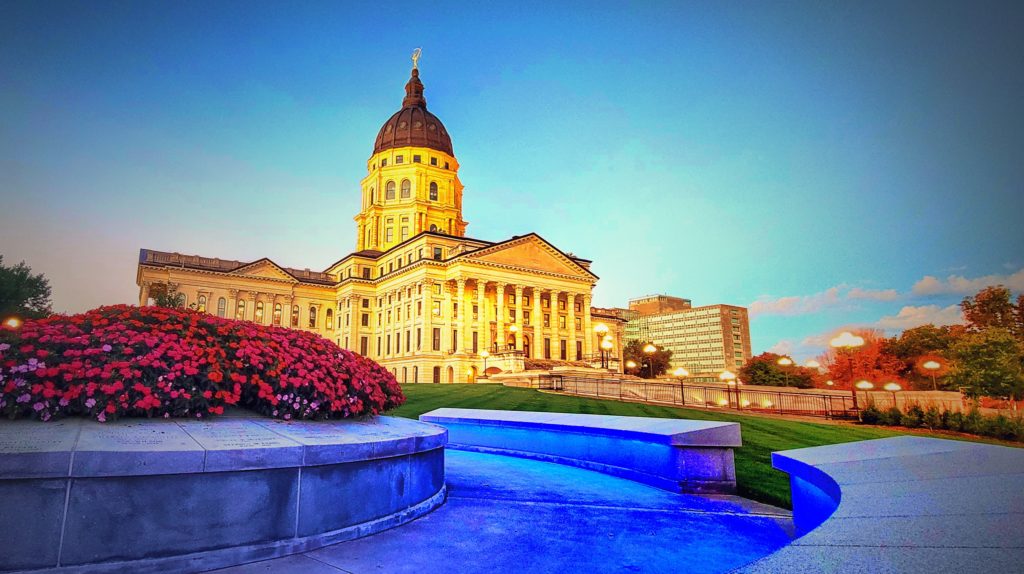 Executive Order 23-01
With her one and only granddaughter on her lap, Governor Laura Kelly signed an executive order this week that will establish an Early Childhood Transition Task Force. 
E.O. No. 23-01 is the first such order of Governor Kelly's second term and serves as a symbolic reminder to Kansans that our children have been and continue to be a top priority. Kansas NEA was well represented at the signing by Vice-President Kimberly Howard and Government Relations Directors Lauren Tice Miller and Tim Graham.
E.O. No. 23-01 establishes the Early Childhood Transition Task Force. The Task Force is charged with reviewing Kansas' early childhood programs and developing a roadmap for the creation of a new state, cabinet-level agency focused solely on supporting the success of our youngest Kansans.
Significant issues related to child welfare are scattered throughout several agencies across state government. One focus area for the new task force would be reviewing Kansas' early childhood programs and developing a roadmap for the creation of a new state, cabinet-level agency focused solely on supporting the success of our youngest Kansans.
"Yesterday, I laid out a vision for my next four years, to make Kansas the best place in America to raise a family. Today we are taking a significant step forward in pursuit of that goal," Governor Kelly said. "Giving Kansas kids the strongest start to life is the best possible investment we can make. This task force will determine how to make that investment most effectively."
Labor Coalition Reorganized
Kansas NEA is a founding member of The Working Kansas Alliance (WKA). Collectively WKA's member organizations represent 500,000 working Kansans. 
WKA recently had leadership elections that resulted in a new slate of leaders. Ty Dragoo of Smart TD (the railroader's union) was elected as Chair. Sarah LaFrenz of KOSE (the Kansas Organization of State Employees) was elected Vice-Chair. Mike Kane of Laborer's 1290 was elected as Secretary/Treasurer. Kansas NEA will be represented on the governing board of WKA by Government Relations Director Tim Graham.
WKA has been an active alliance that serves to collaborate, share resources and work together to discuss, monitor, and advocate on behalf of the members of the coalition. WKA Executive Director, Jake Miller, is a paid staff member who helps the board with its coordination on a host of shared issues.
WKA had its first Board meeting of the year on Tuesday, January 10. Some issues discussed were an ongoing pledge to continue working together strongly on issues of shared interest, ways to support Governor Kelly in her 2nd term, ways to assist new leadership in the Kansas House of Representatives, and the cultivation of new relationships across both parties in the Kansas legislature.
The Government Relations staff has strong relationships with the longtime members of WKA and looks forward to continuing to be leaders in this alliance.
Partisanship and an agenda built upon misinformation and divisiveness…
Tuesday saw the House and Senate Republican caucuses announce their agenda for the 2023 legislative session. The eight-issue agenda was named "A Better Way."
The agenda reflects a number of ultra-conservative ideologies and aligns with similar Republican priority documents throughout the nation. The agenda rails against efforts to advance anti-racism, seeks to double down against reproductive rights, would further marginalize LGBTQ students, and includes another push to advance a "parents bill of rights."
"Legislative leaders are notorious for justifying attacks on marginalized populations based upon a purported conversation with a voter or two who agrees with their agenda. Meanwhile, those who oppose are ignored. We need everyone to be prepared to call out misinformation, disinformation, and attempts by elected officials to muzzle those who disagree."

KNEA President, Sherri Schwanz
In addition, KNEA continues to be focused on the annual attempt to advance voucher schemes that rob funding from neighborhood schools and move those dollars to for-profit, unaccountable private schools. Voucher schemes are often called "tax credit scholarships" and appeal to "school choice" advocates. Unfortunately, these schemes only give the private schools the "choice" of who they will and will not accept into their schools.
It should come as no surprise that Kansas NEA continues to strongly oppose legislation of any sort that siphons funding away from public schools and sends it to private institutions. Kansas NEA will also look very closely at any so-called "Bill of Rights" or transgender legislation and fiercely oppose all legislation that is unfairly discriminatory to students or educators. 
Where's the Democratic Agenda? Wednesday evening would've served as a showcase for the primary Democratic agenda had Laura Kelly delivered her annual State of the State address before a joint session of the Kansas Legislature. However, Governor Kelly's address was postponed until January 24, because of a positive COVID diagnosis that is now being reported as a false positive. We will stay tuned. Kansas NEA will be fully represented during the address and a future Under the Dome will include an analysis of her agenda points.
Inauguration & Swearing In Ceremonies
Governor Kelly and all other statewide elected leaders were sworn into office Monday, officially kicking off their four-year term. During her remarks following her swearing in, Kelly pointed out the stark contrast between the weather Monday – sunny and mild – to her first inauguration – overcast and freezing – and pointed out how that was symbolic of where she began her work four years ago compared to where we are now. She continued discussing her aspirations to continue moving Kansas forward and encouraged leaders to "choose kindness, cooperation and civility" pointing out that, "We got our state back on track, and we did it by working together as one Kansas – not western or eastern, not Democrat or Republican. One Kansas."
Governor Kelly's Budget Prioritizes Special Education Funding
Although Governor Kelly's State of the State was postponed due to a false positive COVID-19 test, the show went on with the presentation of her proposed budget on Thursday. This budget presentation typically kicks things off for the legislative session; not much work happens prior to this presentation.
Just as we have seen over the past four years, this budget is structurally balanced and fiscally responsible. It fully funds schools, makes important one-time investments, pays down debt, and provides tax relief to Kansas families and retirees. It also prioritizes workforce development. Here are a few key points of Governor Kelly's budget:
Early Childhood: The budget includes a total increase of nearly $11 million in a variety of early childhood programs including Dolly Parton's Imagination Library Program, the Early Childhood Block Grant, and initiatives to increase accessibility to affordable childcare.
Special Education: The budget includes the first installment of a five-year phase-in of $72.3 in funding to arrive at the 92% threshold to fully fund special education excess costs.
Base State Aid: The budget continues Governor Kelly's tradition of appropriating the finance formula for the next fiscal year. Specifically, this budget includes providing funding adjustments for the consumer price index (inflation) setting the BASE at $5,103 in FY24 and increasing it to $5,421 for FY25. This reflects an increase of $257 from FY23 to FY24 and an increase of $318 from FY24 to FY25.
Safe & Secure Grants: Governor Kelly has included $5 million for Safe and Secure Grants and has expanded allowable uses to include communication devices and NARCAN.
Tax Relief: The budget builds in an accelerated cut to the state food sales tax rate, a four-day back to school sales tax holiday, and relief to certain retirees with an increase in exemption on social security income tax. As you may recall, the majority party last year made Governor Kelly's plan to axe the food sales tax a gradual phase in with a full repeal beginning January 2025, despite a budget surplus that would allow it to immediately to go to zero. Governor Kelly's budget includes moving the full zeroing out of the statewide food sales tax rate to April 2023 and includes diapers and feminine hygiene products.
Senator Tom Hawk Retires
Education-friendly Senator Tom Hawk of Manhattan gave his final speech to the Senate on Tuesday. He has served in the Senate since being first elected in 2012. Prior to his service in the Senate, he was in Kansas House of Representatives from 2005 to 2010. Hawk is a retired educator. He spent 33 years in various roles at Manhattan-Ogden schools. We are thankful for Senator Hawk's service in the Legislature and his unwavering support of education. We wish him all the best in his retirement.
Hawk is succeeded by Usha Reddi, who was sworn in to serve on Wednesday. Reddi was an educator in Manhattan-Ogden public schools and is a former President of NEA-Manhattan/Ogden.
More: https://kansasreflector.com/2023/01/10/kansas-gop-rails-against-woke-agenda-will-work-toward-stricter-abortion-rules/