When is a bullying bill not a bullying bill? When it's a voucher bill instead!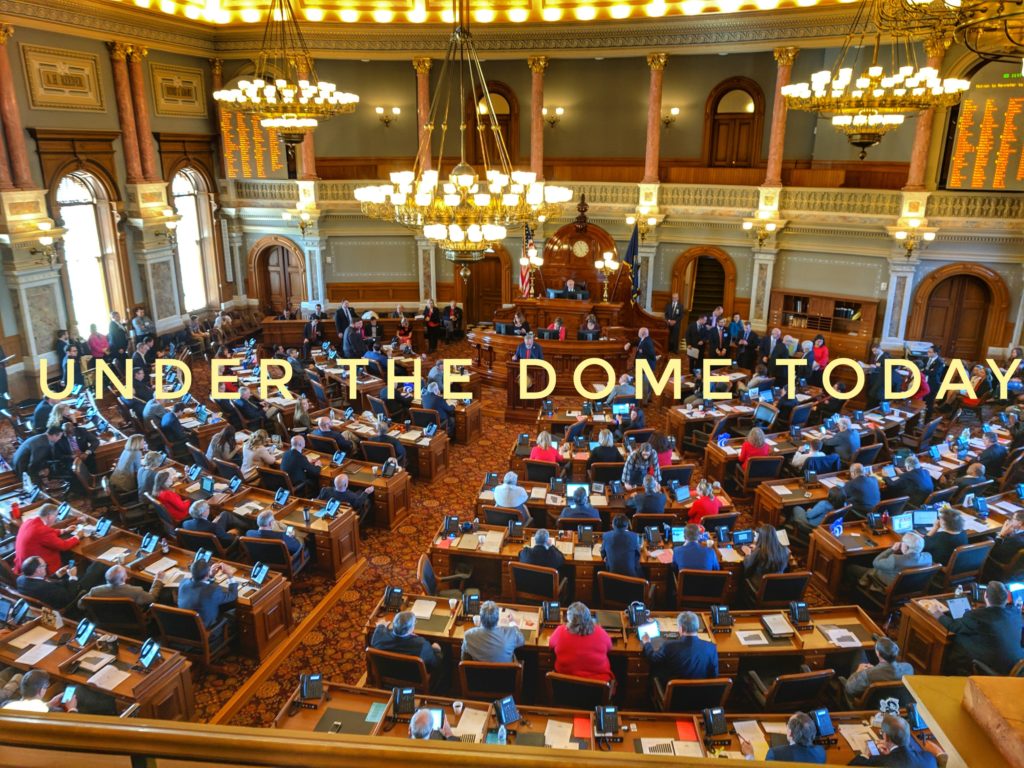 Today in the K-12 Budget Committee, Chairperson Kristey Williams held a hearing on a bill which purports to help victims of bullying, but which really advances a voucher scheme. According to many advocates who track these bills, this bill was born from the American Legislative Exchange Council (ALEC) a conservative think-tank and driver of conservative policy and was recently passed and put into law in the "sunshine state" of Florida. Like the Floridian version of the bill, this bill is entitled the "Hope Scholarship Act" and its proponents – including legislative sponsors Renee Erickson (R-Wichita) and Susan Humphries (R-Wichita) – believe that it would give families a choice to transfer bullied students to both public and private schools. Proponents included the bills co-sponsors as well as lobbyists from American's for Prosperity, the Kansas Policy Institute (both Koch-aligned "think tanks" and the Kansas Catholic Conference.
In its current form the bill, HB 2150, would allow students to receive up to 96% of base aid for the purposes of leaving their current district and moving to a new school. In order to receive this "voucher" students only need to report that they believe bullying has occurred; they don't actually have to have been the target of a bully. The district where the report was received would have 15 days to offer those students the voucher option. There would be no requirement that the alleged bullying actually took place – the report is sufficient to trigger the voucher.
The opponents of this bill pointed out its many flaws. Chief among them is the fact that the bill does nothing to address the root cause of bullying, leaves the bully in place to victimize others without any intervention services, all while sending the message to the bullied student that the only way to solve their bullying is to ship them out. Ironically, the bill does pay for the victim's bus fare off campus as there is a provision to include transportation costs for the student to get to the new school.
As the opponents outlined a litany of concerns, other committee members asked the bill co-sponsors if it was possible that a private school could – in fact – tell a bullied child, "we don't want you," and deny admission even with a voucher. After responding with a conflated argument about schools' rights to tell students how they may or may not dress, it was agreed that private schools could – for example – tell bullied LGBTQ kids that they are unwanted.
A very impassioned plea came from Liz Meidl representing the Mainstream Coalition who carries significant expertise in SPED research and the effective application of SPED programs in public schools. She shared a story of a student who was essentially told by a private Catholic school in Wichita that she was no longer welcome as a student at the school. Rep. Brenda Landwher questioned Ms. Meidl first suggesting and then openly accusing her of making an "insulting accusation" about the Wichita Catholic Diocese. Landwher went on to say that she would be shocked if a Catholic school had unfairly treated any children, let alone the child in this particular anecdote.
We would ask our readers to educate yourselves on all bills that impact education policy, because many – like this one – sound good in title, but really carry a different purpose entirely. Hiding a voucher bill within a bill which purports to address issues of bullying where the resolution of the issue is to send the victim away simply empowers the bully and stigmatizes the target.
We support providing adequate and equitable resources for our schools, educators and parents of both the victims of bullying and the bullies themselves rather than shifting more dollars to private schools via another voucher scheme. And if you read about a "school choice" program, remember that this is exactly what it is – the school gets to choose the students they will take, not the parents.
There will be another, more rational bill to address school bullying issues up for a hearing next week.
KNEA was joined in opposing this bill by KASB, United School Administrators, Schools for Quality Education, the PTA, Game on For Kansas Schools, the Mainstream Coalition, Equality Kansas, the Kansas Council for Exceptional Children, Olathe Public Schools, and Basehor-Linwood Public Schools.
KPERS Re-amortization bill killed on the House floor
House Bill 2197, Governor Kelly's proposal to re-amortize KPERS in order to bring down the required payments by spreading them out over additional years (remember – it's like refinancing your home loan) was debated on the House floor this morning and defeated on a vote of 36 to 87. All Republicans were joined by Democrats Tom Burroughs (Kansas City), Henry Helgerson (Wichita), Tim Hodge (Newton), and Jeff Pittman (Leavenworth). Elizabeth Bishop (D-Wichita) and Greg Lewis (R-St. John) were absent.
During debate, three amendments were offered, none of which were adopted.
And amendment by Rep. Pittman to add a three-tiered cost of living adjustment for current retirees failed on a vote of 49 to 73, getting 10 Republican and 39 Democratic votes. Another two-tiered cost of living amendment was offered by Rep. Dave Benson (D-Overland Park) but failed on a vote of 48 to 75. A third amendment offered by Rep. Cindy Neighbor (D-Shawnee) would have immediately put $115 million into KPERS as in the recently passed Senate bill but was ruled non-germane on a challenge by Dan Hawkins (R-Wichita).
Republicans voting to support both cost of living amendments were: Ken Corbet (Topeka), Tom Cox (Shawnee), Diana Dierks (Salina), Brenda Dietrich (Topeka), Ronald Ellis (Meriden), Ron Howard (Wichita), Jim Karleskint (Tonganoxie), Fred Patton (Topeka), and Tom Phillips (Manhattan). Democrat Henry Helgerson (Wichita) voted no on both. All other Democrats voted yes (Elizabeth Bishop was absent). Republican Bradley Ralph (Dodge City) voted yes on the first COLA amendment and no on the second. Republican Greg Lewis (St. John) was absent.
Actions by both the House and Senate have put Kansas in a difficult place when it comes to financing the priorities of the state – education funding, Medicaid expansion, repairing the broken foster care and prison systems, and restoring the highway fund. Senate actions on Senate bills 22 and 9 would take about $307 million out of the treasury before the budget has even been considered. Now the House has refused the re-amortization proposal which would have saved money in the treasury.
These issues still have a long way to go before they are finally resolved – luckily we are a bicameral Legislature and it takes action by both chambers to make something happen. Keep watching and be ready to take action when we need you to!