Several Kansas legislative committees have been busy for the last week and a half preparing for some Sine Die battles. Those committees have included the House Appropriations Committee, the Senate and House Commerce Committees, the Senate and House Judiciary Committees, the House Tax Committee, the Senate Assessment and Taxation Committee, and the House K-12 Education Budget Committee.
The Appropriations Committee, chaired by Rep. Troy Waymaster (R-Bunker Hill), reviewed the status of the state budget in light of the loss of revenue due to the COVID-19 pandemic. While estimates indicate the budget for fiscal year 2020 (ending June 30) will get by, there will be a shortfall of more than $600 million for FY 2021 which starts on July 1. Committee members did not take any action to adjust the budget for next year. Most folks are hopeful the federal government will pass another stimulus bill to help the states with budget shortfalls. In the event no stimulus funds are available, there are a couple of options available. Governor Laura Kelly can make allotments (cuts) to the budget herself, the Legislature could be called into a special session to make the necessary cuts, or everyone can wait until the 2021 session but by then, half the year is gone and making up a year's worth of cuts in six months would be very difficult.
The committee also reviewed the status of funding that has already become available to the state through the CARES Act – the earlier stimulus bills passed by Congress.
While members of the House Commerce and Judiciary committees spent their time reviewing data and possible efforts to bring relief to Kansas businesses hurting from the COVID-19 closures, the Senate Judiciary Committee has been prepping for an assault on Governor Kelly whom Senate President Susan Wagle (R-Wichita) called a "dictator" for her efforts to stop the spread of the deadly virus. Under her direction, members of the Judiciary Committee are planning to bring legislation essentially stripping the Governor of emergency powers during a declared State of Emergency. They also want to take from the Governor her control over how the stimulus dollars coming into Kansas would be specifically targeted for addressing the pandemic.
Another issue being prepped by the Senate is immunity from liability for businesses if they reopen and employees or customers contract COVID-19 at their business. Blanket immunity, of course, would protect even businesses that do not put new safety measures in place or do so half-heartedly. The attorneys serving on the House Judiciary Committee were much more cautious about such immunity, wishing to provide some level of comfort for businesses but not by denying everyone else of seeking redress in court of something should happen. CLICK HERE to view the statement made by the Kansas Trial Lawyers Association opposing the granting of immunity to businesses.
Use this opportunity to let your legislators know this broad liability protection is a bad idea – with more than 90,000 Americans already dead, we can't let negligence be protected. We can open businesses and if businesses take the recommended precautions, they will be safe from lawsuits. Only those who ignore the guidance of medical professionals and epidemiologists would have reason to worry. CLICK HERE to contact your legislators via a form provided by the Working Kansas Alliance.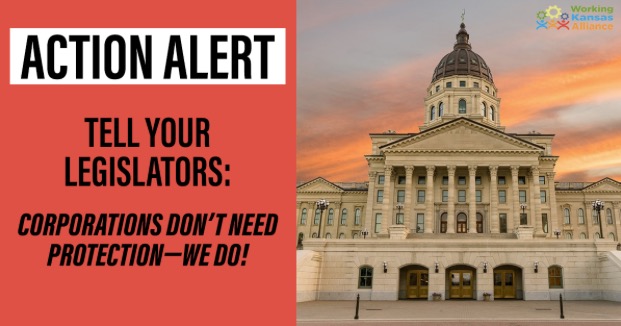 The House and Senate Taxation committees have worked up a number of bills, many of which are intended to protect Kansans suffering economically from having to pay penalties and interest if they are late on property taxes. Each committee dealt differently with these proposals and so a taxation conference committee has been scheduled for Wednesday (May 20) from 4:30 – 10:00 p.m.
Finally, there's the K-12 Education Budget Committee. Committee members heard from Kansas Education Commissioner Randy Watson and Deputy Commissioner Dale Dennis on the status of continuous learning plans and thoughts on how schools might open in August.
Commissioner Watson had plenty of data on the challenges faced by districts in implementing continuous learning plans – everything from internet and device access to simply getting students to engage with the opportunities offered. Of course, nothing ever happens on this committee without some hefty criticism of public schools and teachers and some top-down micro-management.
Rep. Sean Tarwater (R-Stilwell), who represents patrons of the Blue Valley schools in Johnson County, told the committee his constituents are saying there was nothing but "busy work" provided by the district. Tarwater went on to assert that his son's private school had a demanding and rigorous online program that kept students learning.
Rep. Kristey Williams (R-Augusta), chair of the committee, then introduced her "suggestions," calling for a committee vote on them. Her four suggestions are as follows:
Continuous learning plans should include the provision of direct contact instruction. Such instruction is conducted by a licensed teacher communicating directly with a student or students via remote communication or face-to-face interaction. The remote communication could be audio or video communication, or both.
Continuous learning plans should include a minimum number of hours of direct contact instruction for elementary students in the subject of reading that is equivalent to 50% of the typical instructional hours such students receive in reading when they are attending school.
Continuous learning plans should include a minimum number of hours of direct contact instruction for secondary students in the subjects of English language arts and math that is equivalent to 50% of the typical instructional hours such students receive in those subjects when they are attending school. This recommendation would be superceded by any continuous learning plan established by a college or university offering dual or concurrent enrollment in courses in these subjects.
Continuous learning plans should include accountability metrics to measure student participation and academic progress. This should include determining student participation in direct contact instruction and regular student assessments to determine academic progress. Of particular concern should be the academic progress of students identified as at-risk and students who have an individualized education program (IEP).
Asked by Rep. Jim Ward (D-Wichita) how she came up with these suggestions and who she worked with to develop them, Williams said she consulted with some other legislators (she then would not name those legislators) and "lots and lots of teachers." Asked to elaborate on the "lots of teachers" assertion, she said teachers where she lived. She was then asked if she had consulted with any education organizations such as KNEA or KASB and again, she answered "no."
Williams' suggestions are not legislation and will not be brought before the full House or Senate but will be sent to legislative leadership with a request to form an interim committee to study continuous learning and reopening plans and to members of the Kansas State Board of Education. Ward objected to taking a vote while supporting her call for an interim committee. They can be used, he said, in supporting the call for such a committee.
Obviously the "suggestions" are not written as things to consider and having a vote is intended to make them appear to be legislative mandates to the Kansas State Department of Education, school districts, and the teachers and administrators now working with Commissioner Watson to develop strong guidelines for the reopening of schools and remote learning.
Governor Kelly appoints recovery council
Governor Kelly has announced the appointment of the Strengthening People and Revitalizing Kansas (SPARK) Taskforce to lead the state's economic recovery from the COVID-19 pandemic.
The task force has legislators, legal experts, medical professionals, and business owners and is intended to oversee the distribution of CARES Act funding (the federal stimulus dollars that are coming to Kansas).
Of course, Senators Wagle and Jim Denning (R-Overland Park), in leading their assaults on the Governor, have other ideas as we noted above. It is notable that Kelly appointed two of her harshest critics – Denning and House Majority Leader Dan Hawkins (R-Wichita) to prominent roles on the SPARK task force.
CLICK HERE to read the Governor's announcement of the SPARK task force and to find out who the members are.