The legislature is back and, for the most part, things are not going well.
What should be an effort to help all Kansans through the biggest health crisis in recent memory is instead being turned into an excuse to attack and abuse those who are working to both save lives and help displaced workers. Senate President Susan Wagle (R-Wichita) is leading the charge to weaponize fear while exploiting the crisis for partisan gains. And, it is painfully clear that she and her followers are perfectly willing to risk the health, safety, and well-being of every Kansan as she pulls out all the stops to foment anger and promote falsehoods.
At first we had hope when we listened to the Senate and House Tax Committees deliberate. The House Tax Committee, under the leadership of Rep. Stephen Johnson (R-Assaria), picked up right where they left off in March – gathering information on tax issues that had yet to be resolved for the year – notably, the issue of requiring online marketplace facilitators to collect and remit Kansas sales tax. This issue, if adopted, could help with revenue shortfalls in the next fiscal year.
The Senate Assessment and Taxation Committee, under the leadership of Sen. Caryn Tyson (R-Parker), worked diligently to piece together some property tax legislation that will actually provide relief for both individuals and businesses hurting from closures and reductions in business due to the pandemic.
Then came the meeting of the Finance Council and the first partisan bickering led by Wagle and Senate Majority Leader Jim Denning (R-Overland Park). A motion to extend the current emergency declaration by 30 days (which would allow the Governor to continue responding to the COVID-19 pandemic and protect Kansas lives), was changed by Denning to a 12-day extension. Denning and Wagle announced plans to overhaul the emergency management statutes with the intent of reining in a "dictator."
Yes, Wagle- a so-called pro-life proponent- has now labeled Governor Laura Kelly a dictator for her efforts to contain the spread of a deadly virus. Desperate to rescue her campaign for the U.S. Senate (she's been asked by the Kansas Republican Party leadership to drop out), Wagle has chosen to ignore the science, the facts, and her moral duty to instead launch an all-out attack on the Governor. Why? Because it would appear that Wagle believes the Governor's leadership and actions to save lives, which have resulted in a flattening of the curve, are an affront to Wagle's campaign goals and desire to find new and creative ways to divide our citizens during a time of crisis.
Wagle's divisive agenda became more obvious in a later meeting of the Senate Commerce Committee where she, Wagle – speaking as a conferee, not a member of the committee – launched another attack on Governor Kelly and Secretary of Labor Delia Garcia. Wagle recruited and lined up a group of disgruntled business owners to attack the Governor and the Secretary for everything from closing their businesses to not answering the phones when they called (apparently the hundreds of phone calls from working Kansans should've been put on hold when Senator Wagle wants some service).
We all know the Department of Labor has been struggling to keep up with the demand placed on it by an unprecedented catastrophe. Every department of state government has been struggling to recover from the devastation of the Wagle-Brownback tax experiment and subsequent gutting of those agencies. Thankfully, the legislature overturned the "experiment" and Kansas has been on the road to recovery but most departments have not yet been fully restored. Add to that out-of-date computer systems and it is no wonder the Department of Labor is struggling. But, Wagle wants us all to believe that more than a decade of effort she's spent denigrating and diminishing state workers and services we now rely upon continue to deserve even more blame and shame as her anger has boiled into a full-blown tantrum.
The first conferee Wagle brought forward was Luke Aichele, a barber from McPherson. Aichele opened his barbershop in defiance of the emergency order and, in his testimony today, declared all businesses to be "essential." Aichele made the editorial pages of the Kansas City Star in an editorial that starts with this paragraph:
It's one thing to voice one's frustration with the slow pace of the Department of Labor in processing your unemployment claims while ignoring the department was weakened by the Brownback-Wagle disaster; it's an entirely different thing to refer to state officials working to save lives as "Nazis" or to fellow citizens who fear for their safety as "Stalin."
But this is exactly what we saw in every one of Wagle's conferees: There is no crisis, there is no threat to health; they must be allowed to do whatever they want even if it means lives lost. It shouldn't be lost on anyone this kind of rhetoric is both dangerous and very unpopular. Polling has consistently shown 60-70% of Americans are more concerned about the consequences of lifting coronavirus restrictions too early and even a plurality of Republicans polled oppose the anti-lockdown demonstrations that have included the vitriol and rhetoric Wagle is keen on promoting.
Wagle's only plan to control the virus? Keep seniors in their homes. Ignore the alarming rise in serious life-threatening symptoms and deaths among children; ignore the spikes in infections in meatpacking plants (Garden City has now been cited as a new coronavirus hot spot in federal documents). Just open up and trust that folks won't get sick. Sadly, it appears Wagle wants to see lines of patrons outside of barbershops and hair salons even if those lines continue right on to hospital emergency rooms and intensive care units.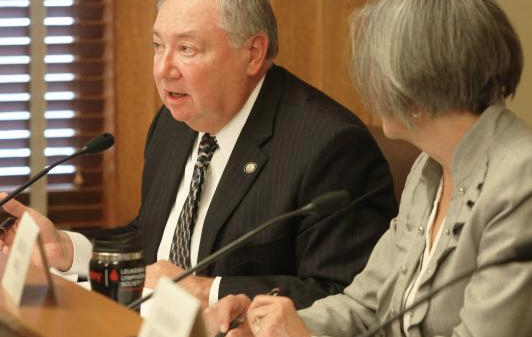 We will see where this goes on May 21 when lawmakers gather for their one-day "sine die" session. Denning and Wagle will bring a bill to stop Governor Kelly from continuing to contain this pandemic in Kansas. Denning threatened the Governor during the Finance Council meeting when he was asked what would happen if the Governor vetoed his bill. In that case, he said, there will be no emergency declaration. So there you have it. For Wagle and Denning, "politics as usual" is worth scrapping the progress we've made to keep the state's infections relatively in check, and our citizens alive. For them, partisanship that threatens our lives is just the price of doing business.