School Finance Hearing Finishes; No Work Yet
The House K-12 Education Budget Committee met today and concluded three days of hearings on HB 2410, the Chairman's bill on school finance. We have been there all three days and don't believe we heard any proponents for the bill with the exception of a virtual school organization that rose to express support for only that portion of the bill and had no position on anything else.
Based on Chairman Larry Campbell's (R-Olathe) previous comments, we had assumed that the committee might begin working the bill after the hearing ended but instead Campbell adjourned the committee after announcing that tomorrow's meeting would be "on the call of the chair." So tomorrow we will be waiting for an announcement from the floor of the House as to whether or not the committee will meet.
---
KanCare and Medicaid Expansion
Rep. Cindy Holscher (D-Overland Park) offered an amendment to HB 2047 to add an independent ombudsman for KanCare. Currently, if denied services, one can appeal only to the very board that denied the service. This was one of the issues raised in the highly critical federal review of KanCare that found serious problems with the Kansas system. The amendment failed 49-73. In other words, the Kansas House voted once again to deny a due process appeal, this time by persons with serious medical issues being denied services by the Colyer/Brownback health care system.
Also this afternoon, Medicaid expansion is being debated on the Senate floor. It has already passed the House with 81 votes and chances are good that it will pass the Senate after what is expected to be a lengthy debate. One of arguments most used by the opponents of expansion – the move by congressional Republicans and Donald Trump to repeal the Affordable Care Act – has been neutered by the failure of "Trumpcare" in Congress last week and the statement by House Speaker Paul Ryan that "Obamacare is the law of the land for the foreseeable future."
UPDATE: Medicaid expansion passes the Senate 25-13 but still two votes shy of a veto-proof margin.  Here's how your Senator voted courtesy of Topeka Capital-Journal Reporter, Celia Llopis-Jepsen (interactive map):  CLICK HERE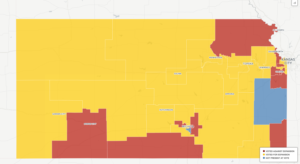 ---
Mostly Floor Action This Week; Conference Committees Next Week
This week has very few committee meetings scheduled. Instead, both chambers will convene earlier in the day to debate bills that have come out of committee with the intention of finishing such work by Thursday, Friday at the latest. This will reserve next week for conference committees to work out the differences between House and Senate versions of the same bill and then adopting or rejecting those conference committee reports.
The last day for the regular session is April 7. Legislators will then go home for three weeks, reconvening for the veto session on May 1.